These end tables needed some serious updating. Cherry with burgundy leather inserts...Yikes! A coat of glossy black spray paint, a little faux ostrich &
we have new nightstands!
Here's the before & it ain't pretty. I unscrewed and pried out the center insert. Then I wrapped & stapled the ostrich. The faux ostrich is thick so the insert does not lay flush in the table like it did before, but I actually like how it is raised up a bit.
To spray paint I used my new favorite thing! While perusing the paint aisle I came across
this
little guy and remembered
Jenny
from the
Little Green Notebook
using it to paint her amazing credenza. I can't believe I didn't use this sooner. Makes spray painting so much easier and it applies the paint more evenly without turning my fingers black!
As for the ostrich, I was inspired by the bench
Janell
from
Isabella & Max
recovered in faux ostrich.
Isn't it grand?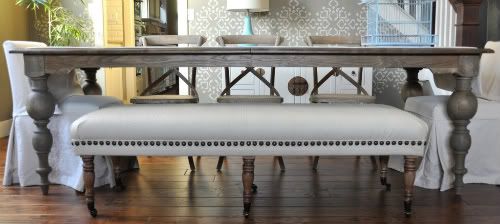 Any room for a little ostrich in your life? Jamie